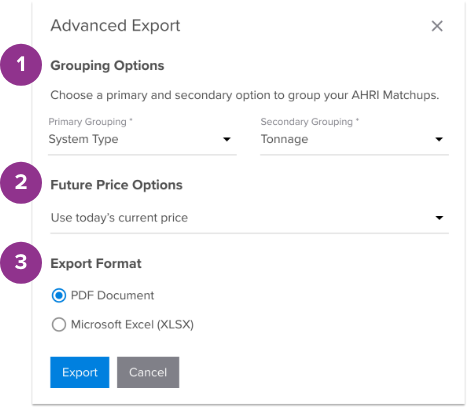 1. Grouping Options
Available only for AHRI type Price Books. This option allows you to define the way the matchups will be organized within the price book. The user can select any of the following criteria to specify up to two grouping levels:
No Grouping
System Type
SEER
Tonnage
AFUE
Product Families
2. Future Price Options
In the HVAC world, as in many other industries, prices varies periodically due to many reasons. The "Future Price" option allows you to export a price book reflecting upcoming price changes before they are put into effect. This gives our customers a great opportunity to plan ahead and make good business decisions.
This export option is available only on Price Books containing products scheduled for price change.
3. Export Format
Choose between two options:
PDF: This popular format provides lots of interactions and can be opened on almost any device.
Microsoft Excel (XLSX): Ideal as a data source to update the pricing in your backend system.